Best Hikes in Arches National Park with Kids
I've been to Arches National Park a few times in my life, and it never ceases to amaze me. The arches are highlights, of course, but the whole landscape and non-arch rock formations make it feel a bit other-worldly. If you are heading on a family vacation to Arches National Park, here are a few tips to plan your best trip! And while there are so many arches to see, here are the easiest, best hikes in Arches National Park with kids.
Let's Jet, Kids! uses affiliate links.  As an Amazon (and other networks) Associate, I earn from qualifying purchases.  It is no extra cost to you.  
Where is Arches National Park
Arches National Park is located in southeast Utah in the United States. It's in the town of Moab, where there are plenty of family-friendly things to do.
Moab is the best place to stay for Arches National Park. It's a really quick drive to the park, plus it's filled with hotels, restaurants, and shopping. Make sure to book early, as hotels do fill up in Moab, especially during busy seasons.
What to Bring to Arches National Park
Arches can get very hot in the summer. Make sure you have plenty of water, snacks, a map of the park, good hiking shoes, a hat, sunscreen, and a great hiking backpack to put it all in.
All the hikes I list in this post are pretty easy and relatively short, making them perfect hikes for kids in Arches National Park. However, if you have a baby or really young one with you, you might want to bring a baby carrier to make things easier.
Find more recommended hiking products to make your day easier.
---
Check out Top Rated hiking products to make your day easier!
---
Cool Places to Stay Near Arches National Park
Fairfield Inn – You have got to see the pool on this one. Swim in the large outdoor area against the red rock scenery, or just relax under the flowing waterfall in the center.
Element – Cool pool, cool setting, updated interior!
Townhome– Large party? Sleep up to 12 within this 4 bedroom/3 bath townhome with 7 beds!
Dog-Friendly, Budget-Friendly Townhome – you can still sleep up to 8 in this 3 bedroom townhome. And it starts at under $200/night!
Quick Info about Arches National Park
open 365 days a year
Visitor's center open every day except Christmas
There is no food/gas/lodging in the park. Get what you need in Moab before heading in.
Camping: You can camp in the park at Devil's Garden and it's strongly recommended to make a reservation before arriving
Timed Entry: YES, Moab currently (2023) uses a timed entry system from April through October. This is a small fee, and is in addition to your park entrance fee.
If you'd like to hike Fiery Furnace, you need to reserve a ranger-guided tour.
Easy Hikes for Kids in Arches National Park
Arches National Park is pretty easy to navigate. There is one main road with a couple offshoots. While the park has over 2,000 known arches in the park, here are just a few arches and other cool sites that are easy to get to for young ones.
Hikes on the first right-hand turn off (The Windows Section):
Balanced Rock
Balanced Rock can easily be seen from the road as you drive through. However, it makes a quick, easy hike for kids in Arches. The parking lot is smaller, so you may have to wait a moment. But once you park, it's an easy walk to get up-close to Balanced Rock.
The trail is mostly paved, too, so you can bring your stroller.
The entire trail is just over a quarter mile.
Garden of Eden in Arches National Park
This is a really fun little hike for kids in Arches National Park. While it's not necessarily all about arches here, Garden on Eden is a fun little place to climb around. There is no set trail, so visitors are welcome to walk around on their own.
I loved the beauty of this place, while my kids loved the ability to be free to climb around.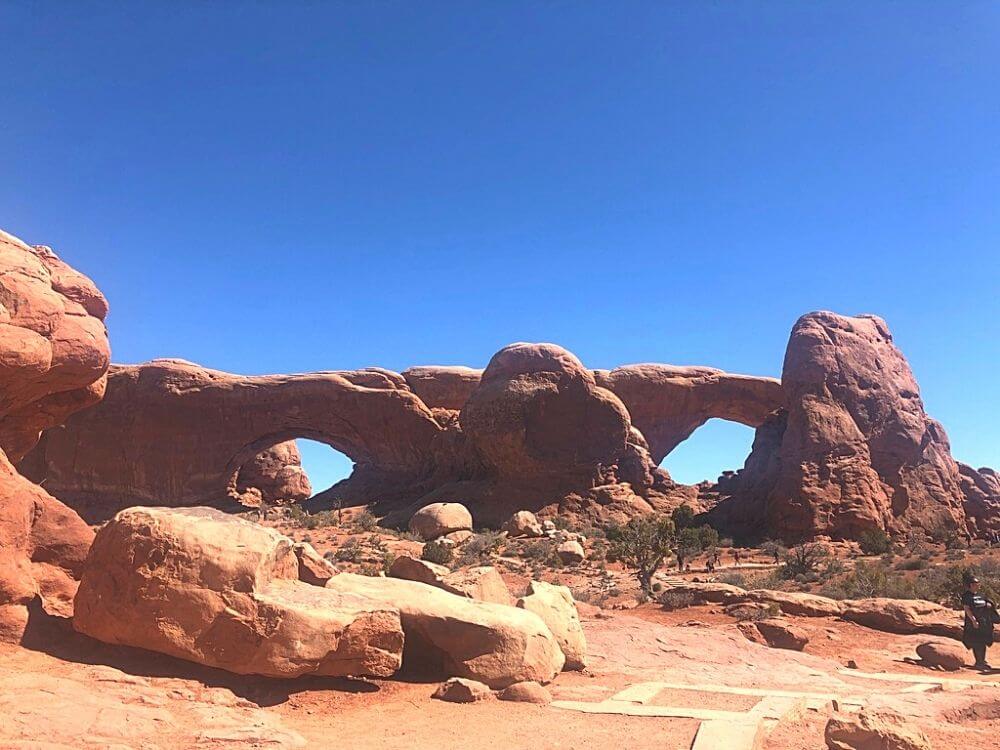 The Windows at Arches National Park with kids
The Windows section is another great place for kids to climb around a bit.
The North Window has a trail that leads right to it, and then you can climb on the rock that forms the window.
The South Window isn't far from the North, and you can also see Turret Arch.
The hike from the car to the Windows Arches isn't too long. If you go up to both windows, it's about 1 mile round trip. Of course, when you get to the first window, the kids will love stopping for a visit to climb around.
At the Windows, you are able to climb up into the arch, which is really cool and give a really cool viewpoint.
While overall we didn't feel too nervous about our kids climbing up here, there were a few times I had to remind them to be careful. If you've got really little ones, I'd stay close when you climb up into the arch.
Double Arch
Double Arch can be accessed from the same parking lot as The Windows. You'll just have to cross back through the parking lot and to the other side of the bathroom. There, a trail will lead you down and across the road to the Double Arch Trail.
Once you're on the other side of the road, Double Arch Trail is only about 1/4 mile to get there (1/2 mile round trip). It's relatively flat and easy to get to the bottom of the arches. If you want to go up into the arch, you'll have to climb up a bit of rock.
This arch is pretty cool as it's two arches that share one side, almost like it has been fanned-out.
Now Back to the Main Road in Arches National Park:
Panorama Point
As you continue on the main road driving north from the Windows Section, you'll come to Panorama Point in Arches National Park. This is the perfect place to pull over and eat a picnic lunch.
There are a few sheltered picnic tables, providing much needed relief from the sun. No matter which way you look, you have an incredible, scenic view of the park around you.
Parking is right next to the picnic area (as well as a bathroom), so it's more a viewpoint and lunch stop than a hike.
Continue back on the main road heading north and turn down the next road to Delicate Arch:
Delicate Arch Viewpoint
You can hike all the way up close to Delicate Arch, but it is a 3 mile trip that will require a few hours if you've got little ones.
Luckily, you can also get a great view of Delicate Arch from the viewpoint trail.
There are two options of a viewpoint. The first option is to walk about 100 yards to the lower viewpoint. You'll see the arch at a distance, but this is perfect if the kids aren't up for a hike.
The second option is to hike from the same parking lot up to the upper viewpoint. This hike is about 1/2 mile. It ascends a bit and has a bit of stairs. But, at only a half-mile, it's totally doable.
The view from the upper viewpoint is pretty good (pictured above). You have a wide open view of the arch in the distance, without having to spend hours getting there!
Note: If seeing Delicate Arch up close is a priority, then go for it! I wouldn't do this close-up hike with toddlers unless you are carrying them in a pack. But if the kids are up for a longer, and more challenging hike, I did see a few older kids (8+ years) doing this hike. Please bring lots of water and be careful around the arch itself.
*To access the hike to Delicate Arch, you'll have to park at Wolfe Ranch, not the viewpoint lots.
Wolfe Ranch Petroplyphs and trail
Speaking of Wolfe Ranch…
This is where you'll want to park if you do decide to hike right up to Delicate Arch (see previous paragraph in the section above)
However, even if you are not hiking to Delicate Arch, Wolfe Ranch is a cool stop to make.
At Wolf Ranch, you can take the short trail to see the rock art left behind by the Ute tribes.
You can also see a small part of history at Wolfe Ranch. Back in 1898, a man named John Wolfe and his son settled these 100+ acres after leaving Ohio. Today, you can still see the small one-room cabin he and his son lived in.
Wolfe Ranch and Petroglyph Trail are along the same trail, and it only takes about 1/2 mile to explore them both!
Back to the Main Road: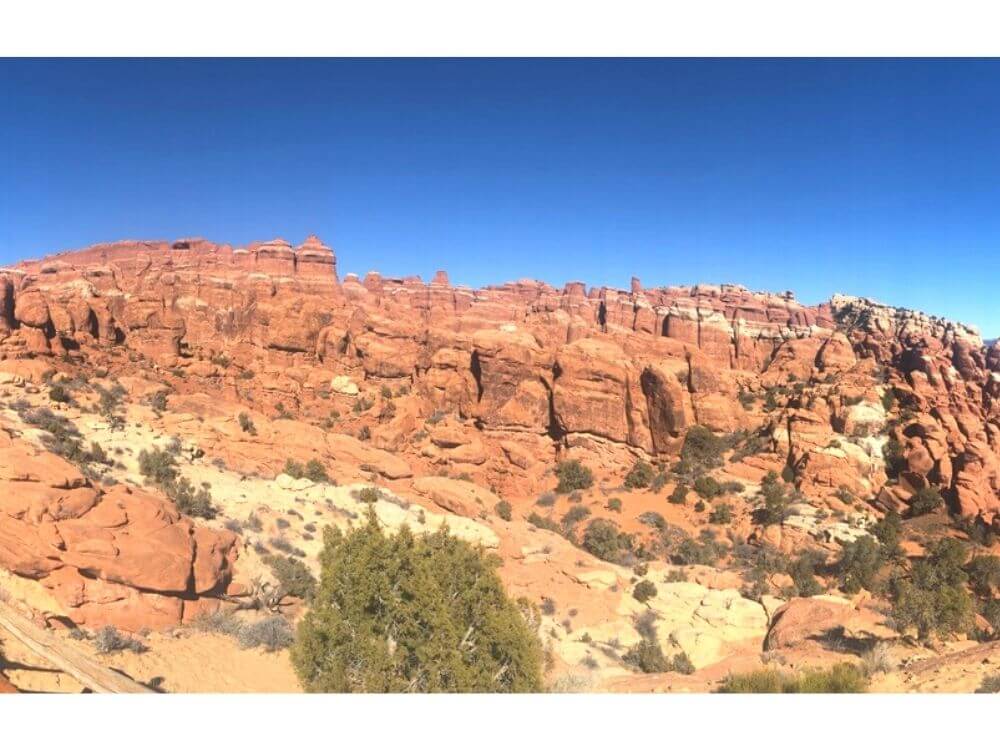 Fiery Furnace Viewpoint
Fiery Furnace was named so for the warm glow that the sun lends to the red rock formations. It's actually a maze of cool, shadowed sandstone canyons. The trails within are not marked. For that reason, if you'd like to hike within Fiery Furnace, you will need a reservation for a guided ranger-led hike.
With little kids, I recommend the beautiful viewpoint that is easily accessible. Just park and hop out of the car and you'll be greeted with towers of seemingly-glowing rock. No hike required.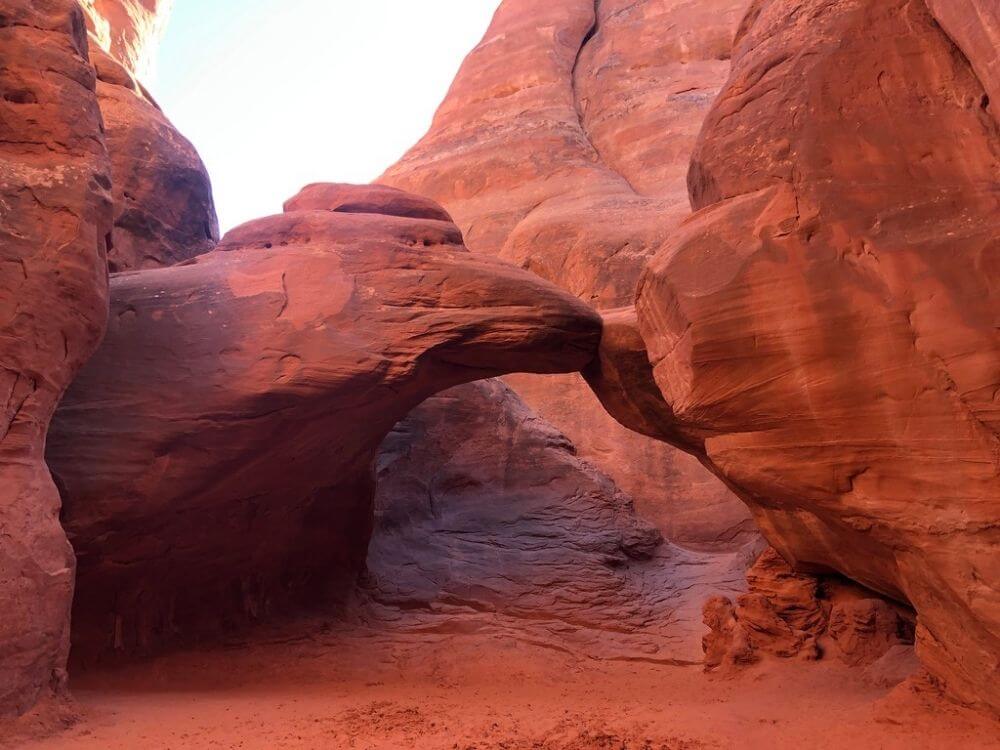 Sand Dune Arch in Arches National Park with Kids
Sand Dune Arch was one of my kids favorite hikes in Arches National Park.
You'll begin outside on a sandy, easy trail. But shortly on, you'll head into what feels like an indoor cavern of sandstone walls. The ground beneath is soft sand, making this arch land in a beautiful setting.
Once you head in, it's nice and cool; no sunglasses required.
It's less than a quarter-mile to get to Sand Dune Arch.
My kids loved trekking through the sand, and getting a little relief from the sun.
The hike is short and easy, making it perfect for kids. However, because of the soft sand, a stroller wouldn't really work.
---
We did not do these arches, but if you'd like: From the Sand Dune Arch trailhead, you can also head to Broken Arch, which is 1.3 miles round trip. Further, you can head to Tapestry Arch which is about 1 mile away from Broken Arch. You can also access it from the Devil's Garden parking lot for a shorter hike.
---
Skyline Arch
Skyline Arch is another great arch to see with kids. It's under 1/2 mile round trip.
Skyline Arch is a sandy trail, but it is pretty easy to follow. Once it gets closer to the arch, the trail kinda just fades away, so you know you've reached the end.
Look up and you'll easily see the big arch up in the sky as you get near. This is a pretty easy arch to hike to with kids in Arches National Park.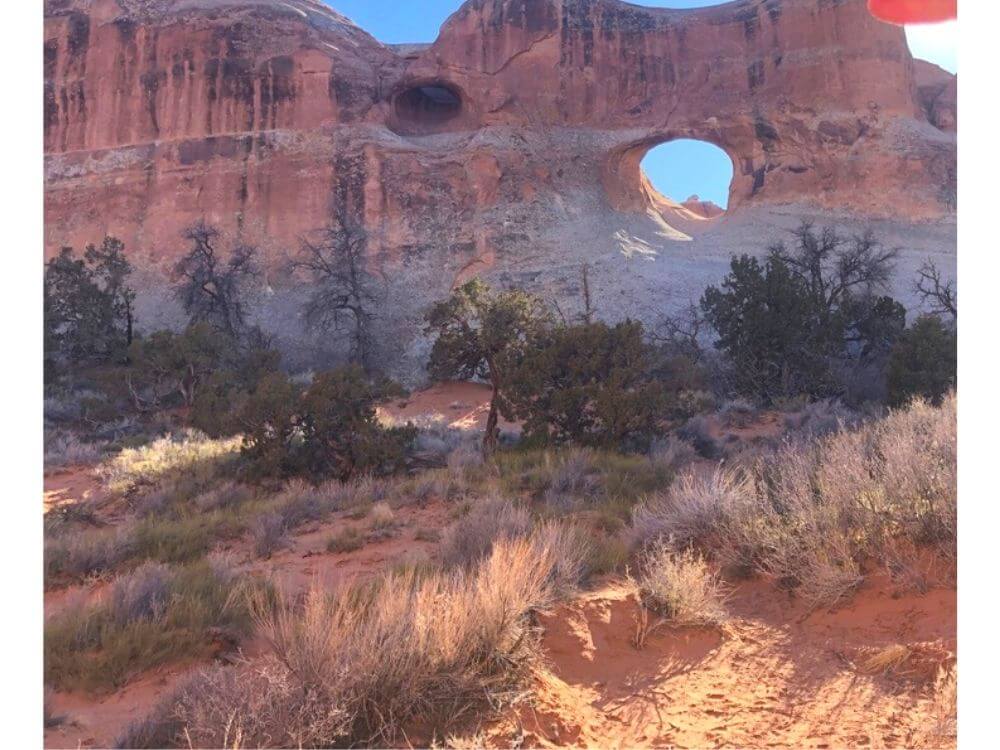 Tunnel Arch and Pine Tree Arch
Tunnel Arch and Pine Tree Arch are both accessed from the same trailhead. The trail starts and then splits off depending on which arch you'd like to go to. It's roughly one mile to see both arches.
To see Tunnel Arch, you will split off to the right. It's not very far down to see Tunnel Arch.
Then head back and continue down the other split (as if you had turned left from the original trail) to see Pine Tree Arch.
The trail is sandy and has uneven parts, so I do not recommend a stroller.
Best Hikes with Kids in Arches National Park
We were able to see all of these cool arches and sites in one full day! If you need an itinerary for one day in Arches National Park, try these out. Pack up some lunches so you can stay in the park and continue on and see the most of Arches. These hikes are perfect for kids as they are short and sweet, but so rewarding.
There are so many awesome arches in the park, but don't forget to notice all the non-arch, beautiful surroundings. From the petrified sand dunes, the La Sal mountains in the background, and the landscape and sandstone surrounding the roads as you drive, there is plenty to see.
Arches National Park is really fun with kids. There's so much to see and do that the kids love. It even made my list of Top 10 National Parks with Kids since it's so entertaining and kid-friendly.
Happy Adventures!
Make sure to check out:
Top Things to do in Moab with Kids