I heard about Great Wolf Lodge for years, and right at the moment where my kids were old enough to really appreciate a place like this, the universe heard my thoughts. A few years ago, a Great Wolf Lodge was built not too far from us. We've since been to the Colorado Springs Great Wolf Lodge and the Kansas City Great Wolf Lodge. We had a blast, and here's my Great Wolf Lodge Review so you can see if it's perfect for your family, too!
Let's Jet, Kids! uses affiliate links.  As an Amazon (and other networks) Associate, I earn from qualifying purchases.  It is no extra cost to you.  
Fun Activities at Great Wolf Lodge
We first visited the Colorado Springs Great Wolf Lodge. Inside, it feels like you've been swept away to a little town, filled with everything you need. One great convenience is all the activities.
While locations may slightly vary, here are some activities ($) that were at one location we visited (Colorado Springs):
Mini Golf
Climbing Wall
MagiQuest (receive a magic wand and go around the hotel for interactive quest)
Panning for gemstones
Bowling
Ropes Course
Arcade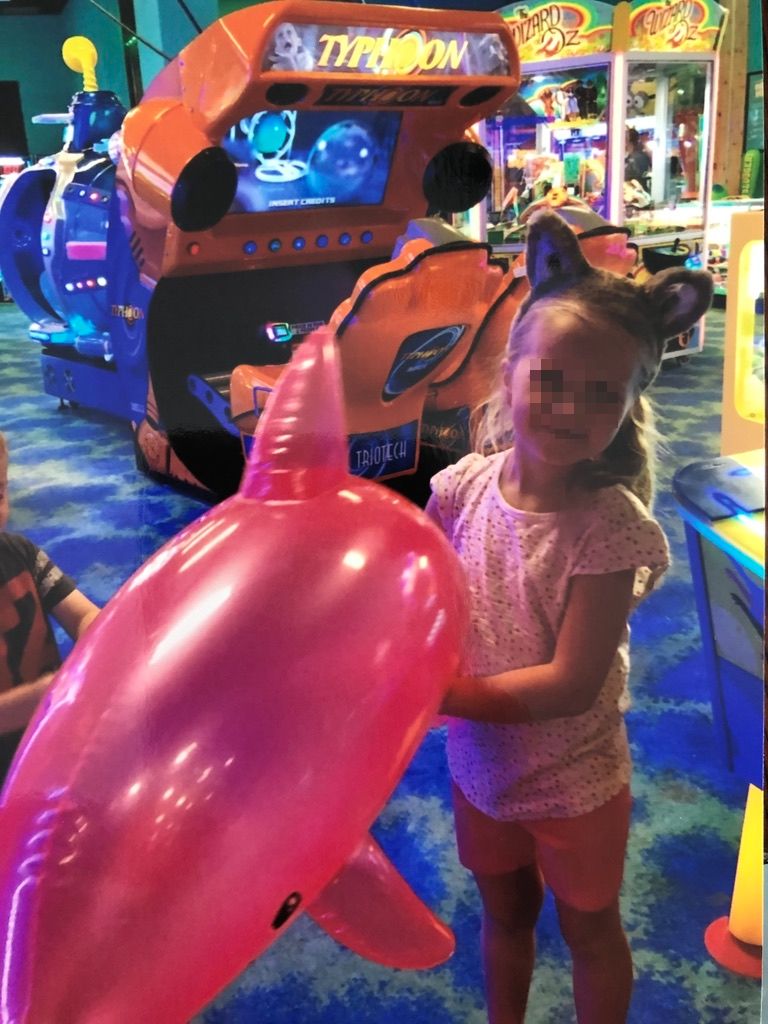 Included Activities at Great Wolf Lodge
Included with your stay at this location is the massive waterpark (more details below), what Great Wolf Lodge is known for, as well as character time. The Great Wolf crew of characters will come out for story time in the evening and you will have a chance to snap a photo with one. Durning the course of the day, we also saw kid's yoga, dance party, and activity time.
Animatonics do a fun show as well
Food at Great Wolf Lodge
As far as food, you can of course step out and grab a bite to eat at a nearby restaurant. Or if convenience is important, stop by one of the restaurants located inside Great Wolf. In Colorado, we visited an Italian place for dinner and Dunkin' Donuts for breakfast. Easy Peasy.
It was kind of like being on a cruise, knowing there were plenty of activities and food! But the main feature is the water park, so I'll go there for a minute.
The Waterpark at Great Wolf Lodge
The waterpark is huge! The best part is that there are sections of the park for all ages. For the youngest kids and toddlers, there is an area with small slides that land in a shallow area. In the same area are water tables, squirter guns, and various water play toys. There are plenty of life-vests to use free of charge if your little needs one (strongly recommended for littles!)
Toddler area and slides
Then there's the wave pool (Colorado location, and others) It's pretty large. Just listen for a howl sound to go thru the park and you'll know the waves are about to start! The wave pool is zero entry, so all ages can enjoy.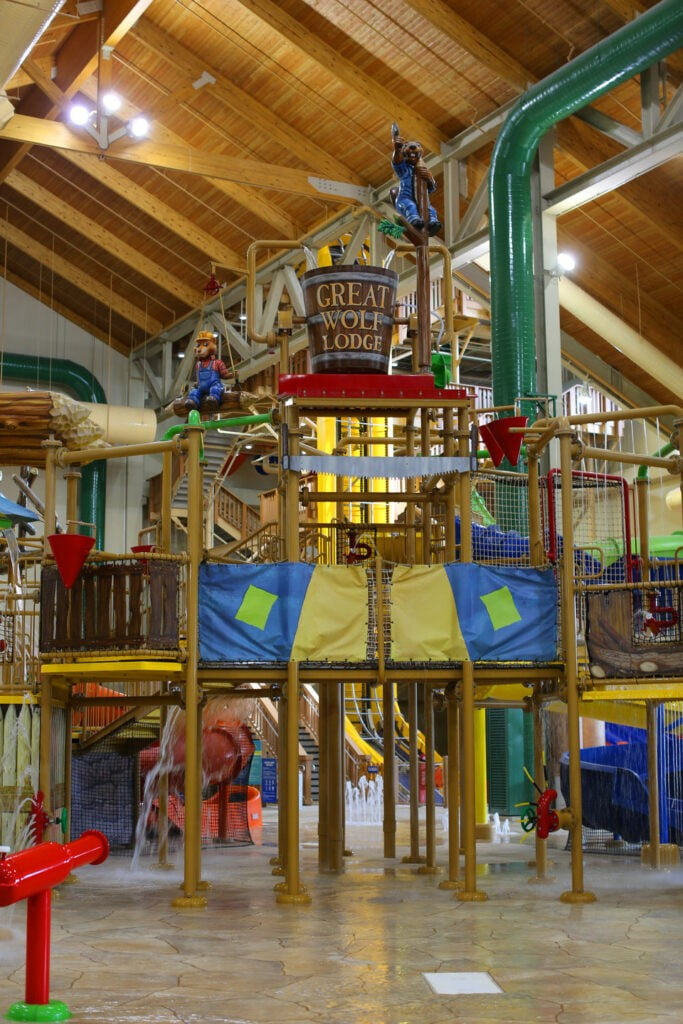 Colorado Springs, Photos provided by Great Wolf Lodge and used with permission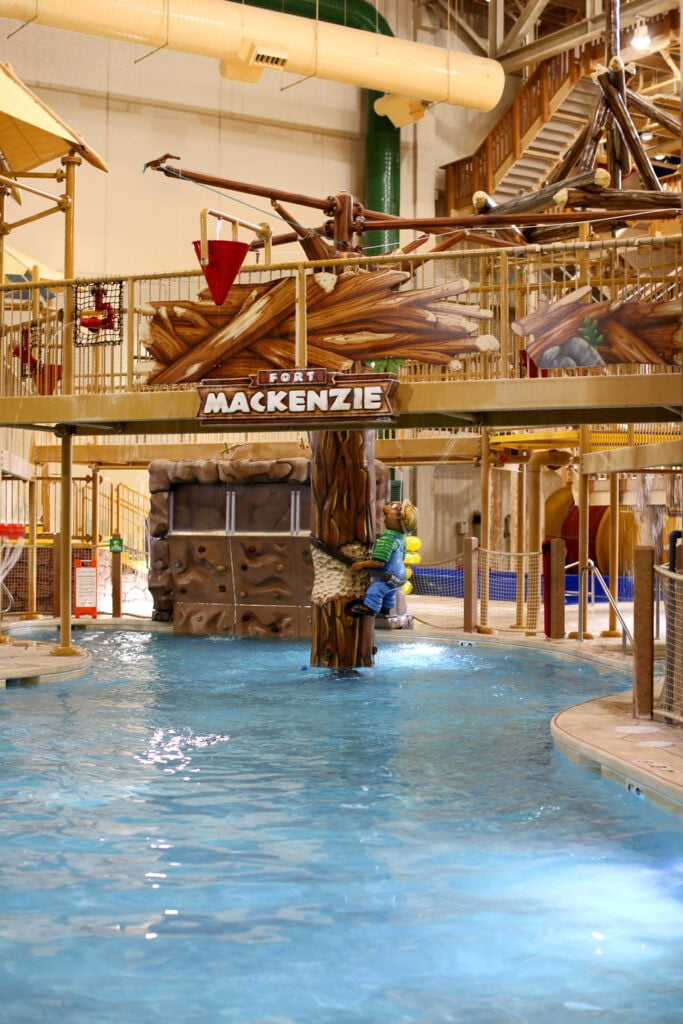 As you get older, you can venture to what I call the activity pool. Here is a traditional pool structure, but with various activities (like basketball hoops).
Then stop at the big, main play structure which has the big bucket dump water from the top about every 5 minutes or so. This is like a playground, with a few waterslides for those kids who aren't toddlers anymore, but maybe not quite old or tall enough for the big slides. These slides are fun though! As an adult, I did them all day long with my little ones and didn't feel like I was missing out too much!
One slide from the main play structure. Smaller kids are allowed on these.
For the Older Kids- Waterpark Activities
For the older kids (or at least taller, as you need to be 48″ for access to ALL the big slides), head over to the stairs where you climb up to a variety of waterslides. Some slides you can double up on a double inner-tube (and don't have to be quite 48″ if you're going with an adult). Some you get on a giant inner-tube for 4 people. Another favorite (at the Colorado location) is the racing slide. Grab a mat and lay on your tummy and race against three other people on separate tracks. Or if you've really brave, go to the top level, where you go tubeless and begin with a free-fall before the slide angles out.
One of our favorite, the racing waterslide
Some resorts (like Kansas City, we have also visited) have a lazy river, outdoor pool, and hot tubs as well.
Birthday Parties at Great Wolf Lodge
Great Wolf Lodge would be an awesome place to throw a birthday party. At Colorado Springs Great Wolf Lodge, there is a small spa for kids, Dunkin Donuts, Ben & Jerry's, and plenty of activities for a fun birthday party.
No matter your age, Great Wolf is such a great family vacation. There are great activities if you want to stay dry, food options inside, as well as famous waterparks that cater to every age. We've been a few times and have no plans to stop!
Here are some of the MANY Great Wolf Lodges around the US. Click the picture for more info:
Great Wolf Lodge- Williamsburg
Great Wolf Lodge- Illinois (Gurnee)
Great Wolf Lodge- Scottsdale, Arizona
Great Wolf Lodge- Anaheim
Great Wolf Lodges featured in this post:
Great Wolf Lodge- Kansas City, KS
Great Wolf Lodge- Colorado Springs
Do you have plans to visit Great Wolf Lodge? Don't miss out on this awesome place!
Save this to Pinterest!
More Family-Fun Hotels!
Hyatt Ziva All-inclusive, Puerto Vallarta