When I think of vacation, I often think of somewhere exotic or tropical, which often makes me think of the word "expensive." While those kinds of places are definitely exciting, it's possible to take a family vacation on a budget. Here is a list of fun and exciting vacation spots in the US all ages will enjoy if you are looking for an affordable family vacation!
Let's Jet, Kids! uses affiliate links.  As an Amazon (and other networks) Associate, I earn from qualifying purchases.  It is no extra cost to you.  
Everyone has a different way to define "affordable." I am defining it based on accessibility, meaning low-cost airlines travel there, or many airlines travel there so you can pick the cheapest. Also, I've included budget-friendly hotel/accommodation options! Once you get there, you can pick which activities meet your budget.
1- Wilmington, North Carolina affordable beach vacations, USA
A beach vacation can be a great way to take an affordable family vacation. If you find the right location, it doesn't have to cost a lot. Beach vacations are great because most of the entertainment and whole purpose of the trip is free (or very cheap entrance to some beaches).
Wilmington itself is a great city, but it's also great because it's the gateway to Wrightsville Beach, a beautiful East Coast getaway.
How to Get to Wilmington, North Carolina
To get to Wilmington, you can fly right into Wilmington International Airport (ILM) on major airlines like Delta, American Airlines, and United. If you don't mind driving a little, you can also find cheaper flights on low-cost carriers to Myrtle Beach International Airport (MYR- 1-1/2 hours away) or Raleigh-Durham (RDU- 2 hours away.)
Things to do in Wilmington, NC with Kids
This is a beach destination, so just relax at Wrightsville Beach a while. Build some sand castles, boogie board, splash in the waves, or chase the birds. The beach is a great way to spend time together, not to mention it's usually free!
Battleship North Carolina
If you're looking for something other than the beach to break up the time, take the history buff to Battleship North Carolina. You can get on and walk around on the ship that went through WWII for $14 and under.
Wilmington Railroad Museum
You could also stop at the Wilmington Railroad Museum where kids can build their own train tracks, see over 20 model trains, or see 100-year-old steam locomotives! Admission is $10 and under.
Jungle Rapids Family Fun Park
If you'd like some water-fun with excitement, visit Jungle Rapids Family Fun Park in Wilmington. There's something fun for any mood you're in. Go to the massive water park, play laser tag, go carts, and climbing wall, and more! Prices vary depending on which activities you choose.
Where to Stay at Wrightsville Beach
The best place to stay is always near the beach. Here are a few locations with decent rates!
Blockade Runner Beach Resort is highly rated and right on the beach. This clean hotel can sleep 4 to a room.
Blockade Runner Beach Resort
Silver Gull Motel is a great price for being right on the beach! Johnnie Mercer's Pier is just a short walk away! Rooms even have a small kitchen, which can really help keep the family on budget.
2- Fresno, California Affordable Family Vacations, USA
Fresno make an affordable family vacation because the airport here is pretty accessible, but not usually too expensive to fly into. To get to Fresno, you can fly right into Fresno Yosemite International Airport (FAT). We have found super cheap fares here in the past! There's plenty family-friendly things to do in and around Fresno. Here are a few things to do in Fresno for kids.
Storyland and Playland
Storyland has a cool story behind it! Originally created over 50 years ago, Storyland was made to inspire a love of learning and make-believe. The park-style is set up to encourage early literacy, with storytellers, storytelling exhibits, fairytales that come to life, musicians, singers, magicians, and more! Admission is very affordable ($4-$6), making it so everyone can access this great literacy-park!
Playland is focused more on rides and entertainment. This small amusement park has teacups, a mini coaster, a ferris wheel, a train, carousel, and more. You can pay for just the rides you want ($1 per ticket and most rides are at least 3), or purchase a pass for the whole park!
Forestiere Underground Gardens
The Underground Gardens is like nothing you have probably seen before, and the kids will love seeing this uniquely-designed farm! When a Sicilian immigrant came to the US over 100 years ago, he dreamt of becoming a citrus farmer. Without creating a blueprint, he worked from the images in his mind to create patios, arches, passageways, and garden courts and chiseled away for 40 years. He eventually created his farm with over 10 acres! He planted many fruit trees underground, making it easy to simply bend down and harvest the fruit.
Forestiere Underground Gardens' admission is above $20 for adults, and discounted prices (or free) for children.
Go to One of Many Parks in Fresno
Fresno has many beautiful, outdoor spots to enjoy with the whole family. Try Woodward Regional Park (just a few dollars per vehicle to enter) with its beautiful lake, trails, playground, and peaceful setting. Make sure to visit the Japanese Garden while you're there. Oso de Oro Park is a family-friendly place to gather and play. And Roeding Park is great for relaxing near the groves of trees, playing on the playground, or having a picnic before seeing the Fresno Chaffee Zoo ($9-$15), which is housed right there.
Photo by Daniel Jerez on Unsplash
Yosemite National Park
This is the real gem of going to Fresno, and what really makes the trip great. While there are many extreme, challenging things to do in Yosemite, there are plenty of things to do in Yosemite with kids, too! Make the drive (about an hour-and-a-half) to the entrance of Yosemite. There are plenty of kid-friendly tails in Yosemite. Walk through the Grove of Giants or take an easy route to a Yosemite Falls viewpoint! See this post of Kid Friendly Hikes in Yosemite for more info! At $35 per car, Yosemite is a great, affordable way to vacation as a family.
Where to Stay in Fresno
Holiday Inn Express & Suites River Park is not far from Woodward Park, an easy drive to the zoo, and about 15 miles from the Underground Gardens makes this clean, comfy, affordable hotel nice and convenient!
---
Read Why I ALWAYS book through hotels.com, and have for years!
---
3- San Antonio, Texas
San Antonio with kids can be a blast, without breaking the budget. This affordable family vacation can be accessed through San Antonio International Airport, and once you get there, there are plenty of budget-friendly hotels. Here are a few fun things to do with the whole family in San Antonio.
Image by desmarsol from Pixabay
Legoland Discovery Center
Starting at about $22 if you purchase ahead of time, the Legoland Discovery Center is the perfect place for family fun in San Antonio. Check out Miniland, the interactive city exhibit made with over 1.5 million legos. Then have a virtual reality experience, ride on the Merlin's Apprentice, or check out the 4D cinema. There's plenty to keep the whole family entertained for the day.
Japanese Tea Garden
This Japanese Tea Garden is the perfect thing to do in San Antonio with kids. The garden began as a $7,000 project with a simple vision for a lily pond. With recent renovations of $1.6 million, it continues to be a place of peace, culture, and education in San Antonio. You'll be able to see stunning scenes of arch bridges, ponds, plants, pavilions, islands, and more at this garden. As if that wasn't good enough, visiting this Japanese Tea Garden is FREE.
Tower of the Americas
Kids will love getting to go up, up, up into the Tower of the Americas. You can choose to just visit the observation deck, dine at the Chart House Restaurant at the top, or enjoy a 4D experience. Either way, you'll get great views of San Antonio! ($14.50 and under)
Take a Boat Ride on the San Antonio River
Learn about the history and culture of San Antonio from the water! Kids will enjoy getting to ride on a boat as they explore and learn. It's a nice, relaxing way to really tour the city! GO RIO offers boat tours for under $15.
Brackenridge Park
This is the kind of park both kids and adults will enjoy. The beautifully landscaped and planned park area is perfect for walking along the river, through the trees, and even stretches through many attractions such as the zoo, a kid's train ride, and Tea Garden.
Aquatica
Though a little on the higher price end, this fun, family water park will keep everyone entertained for the entire day! Aquatica has plenty of big water slides for single- and multi-riders, a wave pool, 3,000 square feet of play for smaller kids, lazy river, slides for the littles, and SO much more! This is the perfect place for families to cool down during a hot trip! (Seasonal, check dates).
Find more Fun things to do in San Antonio in this Complete Guide to San Antonio with Kids
Suggested:
San Antonio River Walk- Hop on, Hop off Cruise tour
Legoland Discovery Center Admission Ticket
Affordable Places to Stay in San Antonio
Hampton Inn & Suites at Market Square is a convenient location. You can walk to many landmarks, including the river which is only a few minutes away!
Tru by Hilton– Walk to the Alamo, the River Walk, the Tower of the Americas and more! Plus, you and the kids can enjoy and outdoor pool and clean, modern rooms…at a great price!
This Home2 Suites by Hilton is right on the river walk. The decor, landscape, and beautiful pool will really make you feel like you're vacationing!
---
You'll also like 8 US Cities with plenty of FREE things to do!
---
4- South Padre Island, Texas Affordable Beach Vacation in USA
South Padre is a great family vacation on a budget! It's a beach location, without the crazy-high beach prices. There are so many things to do in South Padre with kids! We went here a few years ago and had a blast!
What Airport is near South Padre Island?
To get to South Padre Island, there are a few airports you can fly into. We flew into Harlingen at the Valley International Airport. Depending on the city you are coming from, you may be able to get a direct flight. Otherwise, there are plenty of layover options. Southwest and Frontier both fly into Harlingen, as well as United and a few other major airlines. After you get to Harlingen, it's about a 1-hour drive into South Padre.
A few airlines also fly into Brownsville. It's just a little bit closer, but may cost a little more as well.
Here are a few of our favorite family-friendly things to do in South Padre.
The Beach
This is an obvious choice. South Padre has great beaches with great sand, great water, and waves! There are plenty of mass-merchant beach stores where you can grab a boogie-board for cheap and let the kids enjoy playing in the water all day!
South Padre Island Birding Center
This South Padre Birding Center is a fun attraction, and is under $10 per person. Walk through a little museum-type building and then go to the top of the lighthouse tower to look over the area. Then take your time as you walk through huge stretches of boardwalk that go through the marshes. Here you'll find plenty of wild life! Alligators live within the marshes as well as plenty of bird species! Kids will have fun on this educational, wild stop!
Sea Turtle Rescue Center
The Sea Turtle Rescue Center is another really fun place to stop in South Padre and at $10 or under, it's affordable as well. Walk through a small building of rescued turtles undergoing rehabilitation. Then make your way to the outdoor theater area. Here, the staff comes out to share education on sea turtles that informative, entertaining, and interesting. The Sea Turtle Rescue Center has a mission of rescuing turtles, rehabbing them, releasing them, protecting them, and education the public about them.
Take the Kids on a Pirate Cruise
For around $40 (and under), you can go aboard a pirate ship! It all begins before you even get on the ship, where you'll enjoy entertainment from one pirate as you wait. Then aboard, the entire cruise has an interactive show. Pirates entertain and invite kids to swab the deck and work on pirate skills. At the end, they'll earn their own pirate certificate!
For more details on any of the mentioned activities, check out the post on South Padre Island with the Family!
Where to Stay in South Padre
Holiday Inn Express & Suites South Padre- While this isn't directly on the beach, it's just a short walk away. And if you're really on a budget, this is a great pick. The hotel is clean and comfy, and the pool is definitely above-standard for a hotel!
The Hilton Garden Inn is a beach front hotel. It has all the comforts you need and want, clean, and has a great pool! For beachfront, it's a decent price!
We stayed at the Hilton Garden Inn and had great, easy access to the beach from a little boardwalk.
5- Pigeon Forge / Gatlinburg, Tennessee
Pigeon Forge, TN is a great location for exploring the Smoky Mountains. Aside from that, there are plenty of things to do in both Pigeon Forge and Gatlinburg (about 15 minutes apart) for kids! The nearest airport is Knoxville, TN, just under 30 miles away. Fares to Knoxville are usually pretty reasonable, making it a great, budget-friendly family vacation! Here are some fun things to do in the Pigeon Forge / Gatlinburg area with kids!
Image by theSOARnet on Pixabay
Ripley's Aquarium of the Smokies in Gatlinburg
Ripley's Aquarium of the Smokies is home to more fish than there are people in Gatlinburg! With over 10,000 animals, the kids will love seeing the sharks, rainforest exhibits, and fish from the coral. They'll especially love the Discovery Center, where hands-on experiences with some animals await! Admission is $10-$38.
Gatlinburg SkyLift Park
Take a ride on the iconic chairlift at Gatlinburg SkyLift Park that's been around for over 60 years! You'll be able to catch some great views of Gatlinburg and the Smokies. You can also walk across the longest suspension bridge on the continent, which was completed in 2019. This is an easy, thrilling way to experience Gatlinburg! $18-$28 gets you admission into the park!
Forbidden Caverns
About 45 minutes from Gatlinburg (30 minutes from Pigeon Forge) is one of the many caves in Tennessee. Forbidden Caverns provides a tour guide through the cavern as you learn all about the formations and grottoes of Forbidden Caverns. Kids will love the stalagmites, stalactites, and various sparkling formations. There's even sound and light effects to enhance the experience. Entrance is $12-$20
The Island in Pigeon Forge
The Island in Pigeon Forge is fun, entertaining place for the whole family. Famous restaurants like Jimmy Buffet's Margaritaville and Paula Deen's Family Kitchen provide the perfect place for dinner. Then, ride the Great Smokey Mountain Wheel for great views and relaxing fun. The kids will also love a well-done, fountain light-show accompanied by lights and music. The Island is a great, clean, family-friendly place to enjoy a few hours.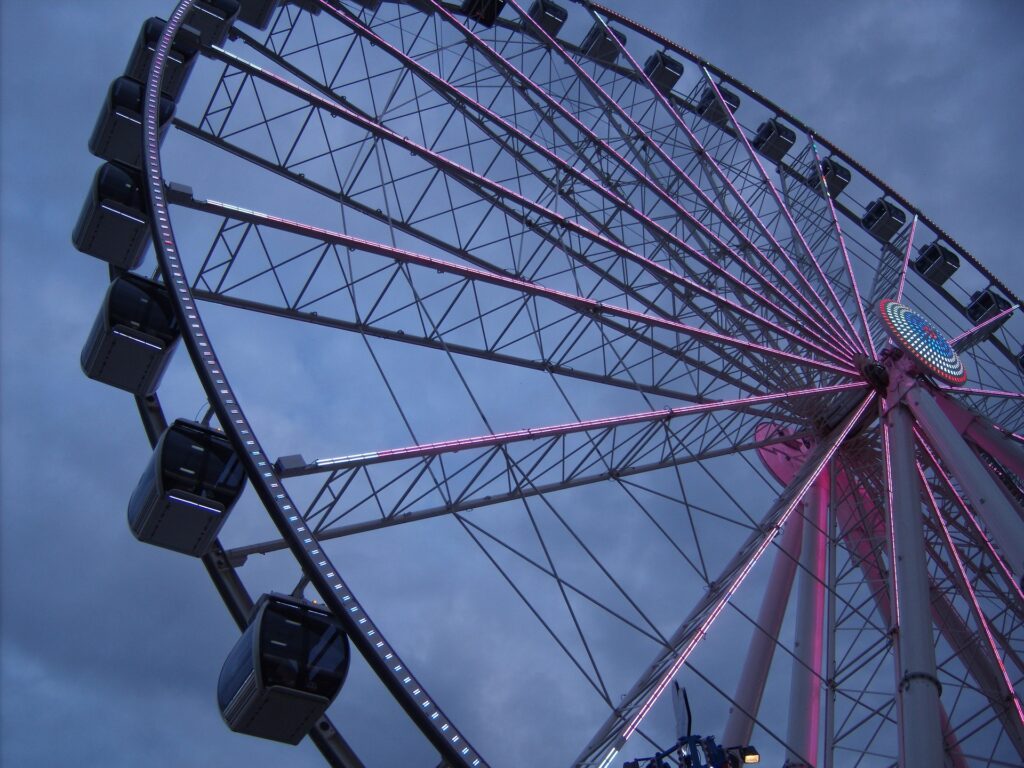 Ride the Rocky Top Coaster in Pigeon Forge
At Rocky Top Coaster, prices are from $5-$18. Unlike a typical coaster where you enjoy just 1 minute on the ride, this mountain coaster lasts a shocking 9+ minutes! With ups, downs, and themed tunnels, kids and adults will enjoy this thrilling ride! Go at night for an experience filled with colorful lights!
Titanic Museum in Pigeon Forge
Combine history and fun at the Titanic Museum in Pigeon Forge. Kids will love walking through replicated areas of the Titanic and seeing over 400 artifacts from the ship. Take a walk through the rooms, parlors, rooms, and halls of this museum. You can also walk to the sloping deck to experience the slide as the ship tilted and walk down the grand staircase. Then, touch an iceberg and feel what 28 degree water feels like. Don't miss this, the largest Titanic museum! Admission is $15-$31, or you can buy a family package for up to 2 adults and 4 kids for $100.
Shows, Rides, and Events at Dollywood Theme Park in Pigeon Forge
Dollywood Theme Park in Pigeon Forge is actually a great place to bring the family. You can play all day on the rides and enjoy various concerts by popular musicians. There's plenty of BBQ to eat and shows that vary depending on the season. If you're there in summer, you'll be able to see the nightly fireworks show! While $69-$79 seems steep, it is loaded with value when you consider spending all day (and evening!) having fun and being entertained!
If you'd like a little more, adjacent to Dollywood is the Dollywood's Splash Country Waterpark. Kids will love cooling off in the summer on slides and attractions for big and small!
Other Fun Things to Do in Pigeon Forge/Gatlinburg with kids!
There is so much to do in this area that it's hard to list everything. But here are a few more fun things to do in Pigeon Forge/Gatlinburg, Tennessee.
Where to Stay in Pigeon Forge
Pigeon Forge is a great central location to both Gatlinburg, the caverns mentioned above, and Sevierville, which is also worthy of exploring. There are plenty of affordable accommodations in Pigeon Forge. Here are some convenient locations:
Arbors at Island Landing Hotels & Suites is a short walk away from The Island, making it ideal for those evenings out to grab some dinner or ride The Wheel! It comes highly rated and has a nice outdoor pool, as well.
Willow Brook Lodge is just a few miles from Dollywood and close to The Island! The great outdoor pool has a kids area and even has a waterslide!
Willow Brook Lodge
Clarion Inn in Pigeon Forge is another great, affordable hotel. It's highly rated, and the kids will love the pool, which also has a waterslide and splash/fountain area. The location is great, sitting a short distance from The Island and the Titanic Museum.
Ramada by Wyndham is a quick walk to the Titanic Museum, not far from The Island, and just a few miles from Dollywood. It has an indoor pool and includes a quick, on-the-go breakfast, making mornings easy!
6- Branson, Missouri
What is the nearest airport to Branson?
To get to Branson, the closest airport to fly into is Branson (BKG). Frontier flies here, which is a relatively affordable airline, but not many others do. I'd say the best airport is Springfield-Branson (SGF) which is about 50 miles away, and more airlines fly here, giving you more options. This affordable family vacation spot is gaining attention and popularity for the many family-friendly things to do!
Fun Things to do in Branson with Kids
Branson is an up-and-coming destination with lots of fun things to do for the whole family! If you can snag a cheap flight into Branson (check Frontier or Southwest!), then it becomes an affordable family trip, as there and plenty of budget hotels! You can use anything left in the budget for fun activities. From rides to nature, here are a few fun thing to do in Branson, Missouri for kids!
For a huge list of what to do in Branson, check out this post
Silver Dollar City
Silver Dollar City is known as being a fun, clean amusement park. Take your pick between the water park or theme park. The theme park offers a wagon ride, roller coaster, tall free fall ride, and small coasters and train ride for the littles (and much more!) There's plenty for both older kids and younger kids to do at Silver Dollar City! (Check website for prices and deals!)
Silver Dollar City isn't cheap, but it is an activity that will last all day long so you don't have to spend on other activities that day.
Titanic Museum in Branson
The Titanic Museum in Branson offers tickets aboard a museum dedicated to remembering and learning about the Titanic. View hundreds of artifacts and tour through rooms, halls, the grand staircase and more. ($15-$28)
Dolly Parton's Stampede and Dinner Show
At Dolly Parton's Stampede and Dinner Show, find your seat in the 35,000 square foot arena. Then enjoy the fun show of horses and talented staff who perform tricks and competitions among each other, all while you feast of 4 courses. The kids will love getting to meet the horses before the show even starts! All this fun and food comes in from $25-$55 (check website for current pricing). Walking along to meet the horses is free!
Visit Branson Landing (FREE to visit and catch the fountain/fire show)
Branson's Landing is a nice area of shopping, food, activities, and fun for kids. You can go bowling, hit the arcade, jump on a boat to tour around the river basin, dress up in vintage gear for some fun family photos at Buster's Old Time Photos, go through a maze of mirrors, or zip line over Lake Taneycomo.
There's plenty to eat at Paula Deen's Family Kitchen, Guy Fieri's Kitchen and Bar, Famous Dave's BBQ, and so many more!
Branson Landing also has a free fountain show unlike any other! With lights, music, geysers of 120 feet, and fire, the kids will love watching this magical show from noon till bedtime!
Table Rock Lake (FREE to visit!)
Kids will have a blast at Table Rock Lake as they take in the fresh air and adventure. Grab a boat ride, or hop in a kayak, canoe, or stand-up-paddle board to see the scenery of this massive lake. With 800 miles of shoreline, there's plenty lake to see!
Off the water, you can head just south of the lake to hike or bike with the kids in Dogwood Canyon Nature Park. Or just stroll along the Table Rock Lakeshore Trail, an easy trail that's accessible (stroller friendly 🙂 )
Table Rock Lake
Other Fun Things to do in Branson, Missouri
Branson is full of fun activities for the whole family. Here are a few more worth mentioning:
Take a golf cart tour to Top of the Rock. Explore incredible scenery and views of the Ozarks.
Visit the National Tiger Sanctuary in Saddlebrook. About 16 minutes from Branson, this sanctuary is a rescue organization that provides homes for animals. You can take a walking tour, feeding tour, behind-the-scenes tour, or riding tour.
See a show- Branson has plenty of live, entertaining shows in the theater district. Find one your family would enjoy and spend the evening being entertained by lights and music!
Visit WonderWorks Branson for an exciting and educational day! Explore weather, Earth, light, space, physics, and more in this family-friendly environment!
Explore The Promised Land Zoo, where you can sign up for a VIP package to have animal encounters!
More Suggestions:
Titanic Museum (my kids loved this)
Affordable Hotels in Branson, Missouri
There are plenty of affordable hotels in Branson, which makes it a great, budget, family vacation! Here are a few that had great locations (and look fun for the kids!)
Stormy Point Village is just a two minute walk from Table Rock Lake. Plus, the outdoor pool is made just for little kids! There's a little water park area, plus a bigger slide the older kids will enjoy.
Branson Towers Hotel offers a large indoor pool, as well as an arcade and games room the kids will love. Walking into this hotel is a charming experience, with stairs going up the levels in a butterflied fashion (there are elevators, too). Plus, it's not far from the theater district, the Titanic Museum, and other attractions.
Best Western Music Capital Inn has a nice big indoor pool, an arcade and games room, and it's located right in the theater district. It even has a free breakfast buffet.
Best Western Plus Landing View Inn & Suites is a great location for accessing Branson Landing. There are activities all around! Kids will enjoy the indoor pool, and parents will love the option of connecting rooms.
***For a great place that can sleep a bigger family in one unit at an affordable price, check out the Tribesman Resort. We stayed here on our trip to Branson and loved all the amenities, setting, and location. ***
See my full rundown of the Tribesman here.
7- YMCA of the Rockies, Estes Park, Colorado
What Airport Should You Fly Into for YMCA of the Rockies?
YMCA of the Rockies is the perfect, adventurous, affordable family vacation! It's located about an hour-and-a-half from Denver International Airport (DEN) in Estes Park, Colorado. Denver has many affordable flights from many cities. It is a hub for Frontier, making it one of the more budget-friendly routes. All other major airlines go to Denver as well. Check out this great family vacation kids will love!
Is YMCA of the Rockies Affordable?
That, of course, depends on your definition. But relative to other destinations and including the value and inclusions…YES! YMCA of the Rockies is a destination in-and-of itself. Rates are around the $150-$200 range for most accommodations. You can rent a cabin at the property for around that price, making plenty of space for the whole family to stay in only one rented "room". The cabins also come with small kitchens, making affordable food easy with a trip to the market. Or, you can pay for the all-you-can-eat buffet at the main site. There are also rooms at the lodge, without kitchens, that cost a little less.
Activities at YMCA of the Rockies
One reason this is an affordable destination is because once you get there, you don't have to spend a ton more to enjoy the time there. YMCA of the Rockies includes tons of activities in your stay! A few bigger activities have an additional fee.
Activities you can enjoy are roller skating, basketball, swimming, biking, axe throwing, an escape room, yoga, astronomy, arts and crafts, disc golf, challenge courses…and so many more! There is plenty to keep the whole family busy during this bonding vacation!
Nearby Activities to YMCA of the Rockies
YMCA of the Rockies is located in Estes Park, Colorado, which is the entrance to the eastern side of Rocky Mountain National Park. If you need a day away from the YMCA, head to RMNP for the day. There are plenty of kid-friendly hikes to enjoy. You can see entrance fees and details here.
8- Siesta Key, Florida Affordable Beach Vacations in USA
If you are looking for a relaxing, affordable beach vacation with kids, look no further than Siesta Key in the Gulf! This key brings tropical white sands you dream of in far-away places, but it's right in the US!
What Airport is Near Siesta Key?
The closest airport to Siesta Key is Sarasota-Bradenton International (SRQ). It's only about a 11 miles away, making it super easy to transport the family! And, most airlines fly into this airport, so you can search around for the best deal.
Fun Things to do in Siesta Key
First, the beach is the obvious answer. If you fly to Siesta Key, be ready to really enjoy the beautiful beaches and water. Siesta Key can be a nice, relaxing, fun beach vacation for the whole family.
If you want to explore a little, there are plenty of beach areas to check out. Siesta Beach is the most popular. There's also Crescent Beach, which is just as beautiful and can be slightly less crowded. You could also have some typical beach-town experiences, like going out of a boat ride, going parasailing, or taking a tour to see some sea-life.
Affordable Accommodations in Siesta Key
Hotels aren't the most budget-friendly in Siesta Key. But that's ok! There are plenty of affordable, nice condo or home rentals, which can save even more because then you have a kitchen to make a few meals in. That will save even more in the end. Here's a few that stand out.
Casa del Miramar is only a 1-minute walk from the beach! This small home can sleep 4, has a pool, and easy beach access.
LJ's Cottage is steps from the beach! It is spacious enough to stretch out, with 2 bedrooms, a nice living area, dining area, and kitchen to feel at home. Two bedrooms and a kitchen is reason enough to count this as affordable vacationing!
9- St. Louis, Missouri
St. Louis actually has a lot of cool things to do for the whole family. Plenty of airlines fly into St. Louis (STL), often with competitively priced fares. Once you're there, there are free things to do, as well as activities with cost. You can easily find accommodations at an affordable price, as well! There's plenty of fun to have here.
To make this family vacation even more affordable, check out these Free Things to do in St. Louis with kids:
Saint Louis Zoo
The Saint Louis Zoo has been rated one of the best zoos in the country! The best part? Admission is FREE! You can walk through this awesome zoo without paying admission. There are a few special exhibits inside that have a low-cost such as the carousel and the Sea Lion Show.
Forest Park
Forest Park is 1,300 acres, making it a bit larger than Central Park in New York. It has been known as one of the most beautiful parks in the world! Forest Park has lakes, streams, trees, paths, and more, which attracts 13 million visitors each year. The park is home to many other fun attractions, such as the Saint Louis Zoo, Saint Louis Art Museum, and the Saint Louis Science Center. Visit free, and park free!
Laumeier Sculpture Park
Laumeier Sculpture Park is recognized internationally as a non-profit arts organization. It began in 1972 when Matilda Laumeier gifted the sculpture park to St. Louis County. It is FREE and open to the public.
The St. Louis Walk of Fame
If you walk down Delmar Boulevard, you'll see stars in the sidewalk with the names of famous people who are from St. Louis or spent their influential years there. Such stars include Maya Angelou, Chuck Berry, Yogi Berra, William Clark, Robert Duvall, and many, many, more.
Hang Out at Union Station
While at Union Station, you can go to one side of the Whispering Arch in the Grand Hall. There, you can whisper one thing, and the person on the other side of the arch will be able to hear. In the evening, you can enjoy the light show at the Grand Hall!
Other Fun Things to do in St. Louis:
Here are a few more fun things to do with the kids. These ones DO have a cost associated with them.
Affordable Hotels in St. Louis
The Marriott St. Louis Grand is right downtown. It's a beautiful hotel with great proximity to the Gateway Arch, City Museum, Aquarium, and more attractions. Off-season rates are a great deal!
Hampton Inn Gateway Arch is another great option. Not farm from the river, Hampton has great accommodations and is just a few minutes walk from the Arch. Kids will love the indoor pool all year long!
Drury Inn & Suites Convention Center is also a decent rate with a great location, and has an indoor pool. You also get a free breakfast buffet, making mornings easy!
Budget-Friendly Family Vacations
As you can see, you don't need a lifetime savings to see some really cool places and have some fun with the family! I hope you've enjoyed getting some ideas for family vacation on a budget, with lots of great destinations for kids that are affordable!
Let me know in the comments which one looks like somewhere you and the kids would want to visit!
You may also like:
Big Family Travel- on a Budget
Family Road trip through the North West