Sedona has plenty of fun things to do for the whole family. If you've got some extra time, don't miss out on these fun day trip from Sedona that kids will enjoy, too! See a massive crater, the Grand Canyon, enjoy a scenic train ride, and more kid-approved outings.
Let's Jet, Kids! uses affiliate links.  As an Amazon (and other networks) Associate, I earn from qualifying purchases.  It is no extra cost to you.  
While there are so many things to do in Sedona with kids, if you need a day to explore away, you'll find something here. Enjoy these 9 best day trips from Sedona for families.
All Drive Times listed below are time it takes from Sedona.
Flying into Phoenix? Don't forget the rental car! Check prices HERE
Day Trips to the North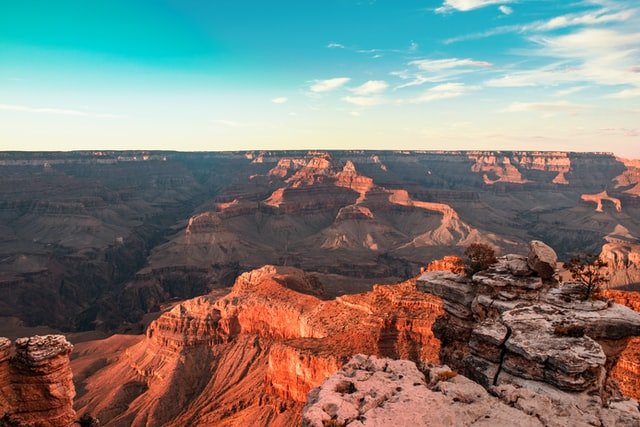 Grand Canyon – Family Day Trip from Sedona
Drive time: 2-1/2 hours to the South Rim
At 1 mile deep and 18 miles wide, this Canyon is something the whole family will love to witness firsthand. The most popular area to view the Grand Canyon is by visiting at the South Rim. You'll get the popular views of the canyon that you see in magazines. There are plenty of viewpoints to stop by.
The South Rim is open 24 hours, whereas the North Rim will close in the winter. But it can still snow, so if you are heading on a winter adventure, make sure to bundle up and grab some shoes with good traction or grips as you explore the area.
Want a way more fun way to get to Grand Canyon? Take a the Grand Canyon Railroad from Flagstaff. This experience even offers hotel pickup in Sedona to transfer you to the train.
See Grand Canyon's official National Park Service webpage for updated info
Walnut Canyon National Monument- Flagstaff
Drive Time: 55 minutes from Sedona
On your way to (or back from) the Grand Canyon, make sure to check out Walnut Canyon National Monument. This makes one of the perfect days trip from Sedona for the whole family.
Kids will love exploring the ancient cliff dwellings in Walnut Canyon. Head to the Island Trail with the kdis. At only 1 mile long, you'll be able to see 25 different dwellings.
This National Monument is part of the National Park Service. As such, you can buy a ticket/pass for one time (good for 7 days), or consider purchasing the America The Beautiful Pass, which will get you into all the national parks or lands run by the NPS for a year. If you have plans to visit multiple National Parks within the year, the America the Beautiful Pass will end up paying for itself.
Check here for updated info and closures at Walnut Canyon
Image by mdherren
Meteor Crater and Barringer Space Museum- Winslow
Drive Time: 1hr 23 min from Sedona
This isn't any museum. Yes, the kids will love this day trip from Sedona to be able to learn about the meteor. But the main attraction here is the large crater.
Over 50,000 years ago, a large meteor came and met the Earth, leaving huge destruction to the land around it. Hitting at a force much greater than even an atomic bomb, the meteor left a crater nearly 1 mile wide and 550 feet deep. 😮
Check out the crater from the comfort of indoor observation areas, or take a guided hike that will take you around the rim.
Check here for more info and current pricing.
See here for a tour that will take you and your small group to both the Meteor and Walnut Canyon.
Photo by Gert Boers
Horseshoe Bend – Page
Drive Time: 2 hours 46 min from Sedona
Located in Glen Canyon, Horseshoe Bend is a popular viewpoint with incredible geological views. It's one of the great day trips from Sedona with kids because the hike to take it in is only 1.5 round trip.
Millions of years ago the rock formations that make Horseshoe Bend were actually sand dunes. Water and minerals eventually petrified the dunes into rock, and the added elements, minerals, and environmental pressures over the years turned it into what it is today.
However, the sandstone in the middle wouldn't budge much, so the river goes around the protruding rock, giving us what we know as Horseshoe Bend.
Photo by Leon Liu
Antelope Canyon- Page
2 hours 52 min from Sedona, 10 min from Horseshoe Bend
Antelope Canyon is one of the most beautiful slot canyons there is. It's a bit surreal and incredible how the canyon has been carved and shaped. If you get the chance to make a day trip from Sedona, do not miss this!
Can kids hike Antelope Canyon? Yes. Antelope Canyon has rated the hike a 3 out of 10 in terms o difficulty. There are hills, you are in sand some of the time, and there are stairs. But they say anyone without major health or knee/hip issues should be able to do it.
Now, in order to hike through Antelope Canyon, you have to be on an approved tour. Antelope Canyon is protected by the Navajo Parks and Recreation, so there are no self-guided hikes.
Reservations are strongly encouraged, as hikes sell out.
This tour can be reserved if you are driving yourself.
This tour will transport you from Sedona and take you to both Horseshoe Bend and a guided hike through Antelope Canyon.
Image by parkineer
Bearizona Wildlife Park – Williams
Drive Time: 1 hour 7 min from Sedona
For the perfect day trip from Sedona, check out Bearizona. This spacious-take on a zoo allows ample room for animals to roam as you drive through the park.
Since the animals have so much space, you'll have to keep your eyes really open. The kids can try to spot bears, wolves, otters, reindeer, bison, and more.
Check out their webpage for more info and current pricing.
Near Sedona and South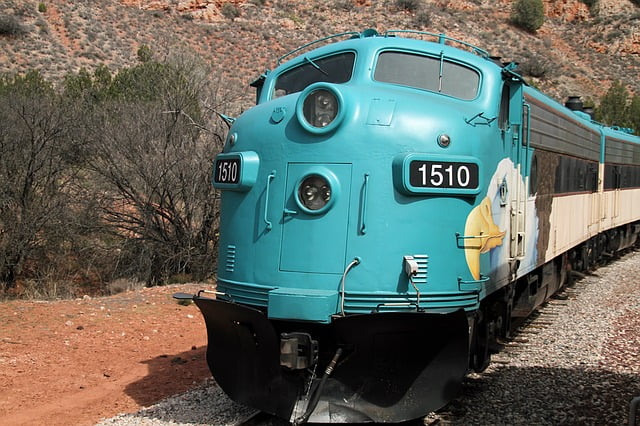 Image by Monica Volpin
Verde Canyon Railroad- Clarkdale Fun Day Trips from Sedona
Drive Time: about 40 minutes to Clarkdale Train departure
The Verde Canyon is full of scenery. And what better way to take it all in than on a train ride?
This day trip from Sedona has everything a kid could want. Trains, food, and cool sites like cliff dwellings, mining towns, and of course wildlife.
This excursion allows you to choose from indoor viewing with A/C or open air seating.
Make sure to grab tickets to the Verde Canyon Railroad in advance.
Phoenix - Day Trips from Sedona
Drive Time: 2 Hours
The capital of Arizona is also the largest city. As such, it hosts all the typical, fun, family-friendly attractions as most major cities. Visit the Phoenix Zoo, Children's Museum, art museum, or firefighter's museum (the Hall of Flame).
For a more unique experience, visit the Desert Botanical garden, filled with cactus and desert species of plants.
The Japanese Friendship Garden is beautiful as well. Landscaped over 3.5 acres, kids will love the fresh air, waterfall, and visiting the tea house.
Looking for thrills? Head to the Hurricane Harbor Waterpark and Amusement Park at Six Flags.
Kids with paleontology aspirations will love Pangea, Land of Dinosaurs. Build, excavate, and explore at this attraction that's all about dinosaurs!
Plus, there is plenty of hiking that will take you to spectacular sites and viewpoints. For even young kids, check out the Hole in the Rock, an easy and short hike/walk exhibiting cool geological formations.
Image by Eric Simon
Montezuma Castle National Monument - Camp Verde
Drive Time: 45 minutes from Sedona
This isn't your typical architecture! This day trip from Sedona will take you and the kids back in time to Native American culture.
Montezuma Castle features 20 rooms built from and into limestone walls.
While you're there, make sure to make the short drive up to Montezuma well, another important part of the history and culture. When you get there, the sinkhole is less than a mile to get to this geological formation.
Day Trips from Sedona with Kids
While there is plenty to do in Sedona with kids, if you are wanting to expand, there is also plenty to do just a drive away! Explore amazing National Parks, monuments, history, and cool craters. And don't forget that train ride. Kids always love trains 🙂
I hope you've found some inspiration for what to do and where to go when you take that family vacation to Sedona, Arizona.
Save to Pinterest!